i feel like this game deserves its own thread, particularly since when we talk about it we tend to get a little deeper and it seems sort of uncouth with the gist of the general video game thread.
ive been playing a lot of watcher recently. im up to ascension 8 or 9 now. im curious what cards and strategies people are digging.
im finding my best decks tend to be all about setting up big turns. the goal is to end turn in calm (if they are loading an attack)-> rage first thing next turn -> unload attacks (ideally a bunch of the 1 mana 12 damage retain ones)-> 0 cost calm card. in that vein, the cards im trying to chase the most and which i find most impactful are (in the order im finding them on the wiki):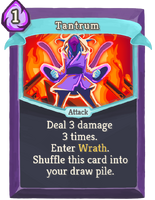 tantrum is probably the second best rage setter from my experience, and a great card you dont mind drawing when you are already in rage. it plays well with strength trinkets. its cheap. it does 18 damage in rage pre-upgrade and 24 post. i generally want as many of these as possible.
ragnarok is the card you want on your top end. if you save your miracle you can always activate rage then use it for a ton of damage, or if youre in rage you can usually drop a calm after using it. just a really good card at pretty much every stage of the game.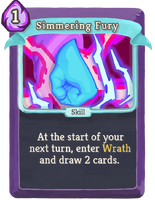 probably my favorite card to grab with watcher. its exactly what you want. it lets you move a mana over to next turn and start with rage. you get 2(3) more cards, and probably 2 more mana from breaking calm, to start your turn. youre almost always going to get a turn of 5+ mana, with double damage, with enough attack cards in your hand that you can convert all your mana into double damage.
there are probably a lot more i could put down here. watcher has some really strong cards. whats working for everyone else?